NISKAYUNA — A former Republican candidate for Niskayuna Town Board has decided the Grand Old Party isn't a good fit anymore.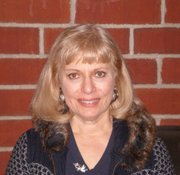 Linda Rizzo, a former Niskayuna Republican Committee member, announced on Tuesday, Jan. 24, she was leaving the town GOP and filed a change of enrollment to join the Democratic Party. Philosophical differences and campaign tactics used by the town GOP is what Rizzo said spurred her switch. She said the change wasn't made for reasons of political gain, such as getting elected to office.
"I left the party to become a Democrat because I have really major philosophical differences with the Republican platform at the national and local level," Rizzo said. "It seems like the party is less and less concerned with the middle class and it seems like there is little room for moderates."
Rizzo said she considered the recent town tax levy increase of 3.4 percent and bond rating downgrade as "non-issues," because they were caused by an economic crisis on national and state levels. The town's leadership, she said, was not the cause.
"The supervisor had handled the budget in a very responsible manner," Rizzo said. "I felt that we were making non-issues issues during the campaign."
Rizzo said she joined the Republican Party when she moved to Niskayuna in 1994 and for the last four years she was an active GOP committee member. In last year's election she ran unsuccessfully against incumbent Democrats Liz Orzel Kasper and Julie McDonnell for a seat on the Town Board.
Michael Mansion, chairman of the Niskayuna Republican Committee, said he is disappointed any time a Republican is lost to another party, but even more so when an active member leaves.
"We are disappointed a little bit more knowing how hard Linda has worked in the past for the Republican Party," Mansion said.
(Continued on Next Page)
Prev Next
Vote on this Story by clicking on the Icon