BETHLEHEM — After being closed for a week by Town officials amid fears of land erosion, Hoffman's Car Wash and Jiffy Lube reopened on Friday, Feb. 3.
Town Supervisor John Clarkson said members of the New York State Geological Survey initially identified the problem while doing work around town last week. Bethlehem officials were then notified and an engineering firm then confirmed the slope behind the Hoffman building could potentially cause problems in the future.
"We closed it to be sure it was safe for the public," said Clarkson. "We wanted to make sure it was nothing serious." The business was then closed on Friday, Jan. 27.
In May of 2000, a produce stand next to Hoffman's slipped off the back of the site during a mudslide. Clarkson said the town wanted to be sure a similar or larger incident would not happen.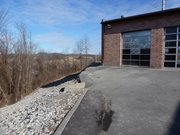 Bethlehem officials contacted the state Department of Transportation, National Grid and the City of Albany to preform their own inspections of the property, which all determined there was no danger. The state DOT maintains the portion of Delaware Avenue, while the City has water lines on the property and National Grid has power and gas lines nearby, according to Clarkson.
Hoffman's President Ron Slone hired his own engineers to study the erosion next, and they felt there was no immediate risk to the building.

After a meeting with the town on Monday morning, the business was reopened.
Slone said engineers hired by Hoffman are now working with the town to plan a repair schedule. The slope will most likely need to be cut back and regraded. Engineers have put in place equipment to monitor erosion over the next month, and then a plan will be finalized.
"Right now we're very happy to be open and employees are happy to be back at work," he said.
According to Slone, repairs should start by early spring and be finished by July.

Vote on this Story by clicking on the Icon