A family of four from Loudonville was arrested for allegedly stealing credit cards from their elderly and disabled relatives, according to information from the Colonie Police Department.
On Wednesday, Feb. 1, Colonie police arrested Margaret L. Ryan, 51; Patrick J. Ryan, 58; Kevin B. Ryan, 20; and Daniel P. Ryan, 23, all of 10 Bertha Terrace, and charged them with criminal possession of stolen property, a felony, and petit larceny, a misdemeanor, according to police reports. Margaret, Patrick and Kevin Ryan were also charged with conspi
Photo Gallery
Mugshots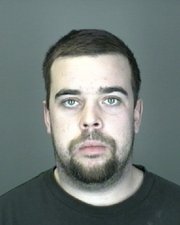 racy in the fifth degree, a misdemeanor, according to police reports.
In late January 2012, Colonie Police were made aware that an 85- and 81-year-old husband and wife (both are deaf and the wife is also blind) believed they were being victimized by family members who stole and used their credit card to purchase at least $8,000 worth of merchandise over at least the past six months, according to police reports. Police said the total amount of money spent is still being investigated and could be as much as $12,000. Police said the Ryans prevented the victims from realizing the crime by intercepting credit card statements.
The accused family members are the victim's daughter, son-in-law and two grandsons, said police.
Police said as of now, the criminal charges relate to purchases made on four separate dates by the four family members at the Price Chopper on Albany-Shaker Road, but that the investigation is ongoing and additional charges may be filed.
All four defendants were arraigned on Feb. 1 in Colonie Justice Court and remanded to the Albany County Correctional Facility in lieu of $5,000 bail and the case has been forwarded to the Albany County District Attorney for future court proceedings. The Colonie Justice Court also issued orders of protection banning the defendants from having contact with their victims and on Thursday, Feb. 2, Margaret and Kevin Ryan returned to the victim's residence and were arrested for violating that order of protection and charged with criminal contempt in the second degree, a misdemeanor, according to police.
Check back to spotlightnews.com for updates on this story.
Vote on this Story by clicking on the Icon