CAPITAL DISTRICT — When Patti Mollica paints, she uses big brushes and lots of thick paint so her artwork is "fast, loose and bold," just like the popular workshop she teaches.
"I apply the paint in a very painterly and gestural manner," said Mollica, who lives outside New York City.
She'll demonstrate the style that artists clamor to learn from her at Colonie Town Hall on Tuesday, Feb. 7, at an event hosted by the Colonie Art League.
Mollica's art is representational and a bit whimsical, but not abstract.
"I'm painting real things but it's a style that could be called very impressionistic and a very painterly type of effect," said Mollica. "I take lots of liberty with color."
She likes to choose common themes, like people sitting on the subway or the bustling streets of Manhattan.
"I have a real fondness for geometric shapes so I like doing shadows cast from buildings … anything that has lots of angles," said Mollica. "It's not about what the subject is giving us, it's about what we bring to the party in looking at any subject."
Before she settled on the in-your-face style that's become her artistic signature, she created simpler illustrations for well-known companies like American Express, Penguin Press, Hallmark, Sheraton Hotels, CBS and RCA records.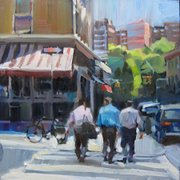 "People hired me … to carry out their artistic vision in their products and their services," said Mollica. "They basically tell me what they want and I do it."
That restriction on her creativity eventually started to wear thin and she decided to loosen up and reclaim her artistic happiness.
"I just wasn't having enough fun in my own painting. … I decided to start using color much more intuitively," said Mollica. "I threw all that caution to the wind … and my goal was less about creating a masterpiece than having fun."
(Continued on Next Page)
Prev Next
Vote on this Story by clicking on the Icon