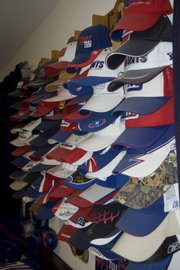 SCOTIA — Walking into the bedroom of 82-year-old Frank Massey is like walking into a Giants memorabilia museum, which is maintained with the care of a curator.
There is a lot to take in at first — hundreds of hats lining the walls of the modest bedroom, a bed decked in New York Giants logos, newspaper clippings, pictures, little trinkets and toys and everything in between.
The number of items Massey has isn't countless, though, because he also has meticulously archived nearly every item with when and where he got it.
Massey, a Scotia resident and Schenectady native, has also amassed 290 different signatures of Big Blue players, organized by spreadsheets with various categories neatly kept in a binder.
"I catalogued everything of all the things that are in here, so I know where they are," Massey said. "To find the autographs I also made a key, so I can locate where these autographs are. It was quite extensive to do that."
His wife, Marlene, has confined his collection to the bedroom and connected bathroom, which he respects.
"I have always been a fan and we got to see the 1991 Super Bowl with Buffalo (versus the Giants) and I didn't have anything at the time," Massey said. "People started buying me hats and that's how it started."
Marlene crafted him some hangers to display the budding collection of hats, since her husband had nowhere to put them. Today, he has about 215 different hats, with a large majority holding a signature, sometimes several.
"I am not an autograph hound anyway, but it gives me something to do," he said.
Since the Giants didn't travel to the University at Albany for training camp this season due to the lockout, he wasn't able to grab any more signatures this year. Next year, when the Giants are expected to return, he plans to attend again. The Giants have came to UAlbany for 15 years.
(Continued on Next Page)
Prev Next
Vote on this Story by clicking on the Icon