COLONIE — A Loudonville man died in a car accident on Saturday, Feb. 4, according to Colonie police.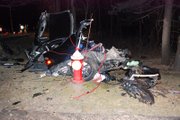 Christopher Miller, 22, of Loudonville, died after the BMW Sedan he was driving went off the roadway and struck a tree on Old Niskayuna Road near Hills Road at about 8:25 p.m., according to information from police. Lt. Ken Pero said the vehicle split in half and so far, speed appears to be the only factor.
"We won't have an estimated speed for awhile," said Pero, who added there were no witnesses to the crash. "(Alcohol or drugs) won't come out until toxicology comes back but we ... think it's just speed, preliminarily."
Pero said the police department gets occasional speed-related complaints but that the area of Old Niskayuna Road where the crash occurred isn't an accident prone area.
Anyone with information about the accident is asked to call Colonie police at 783-2744.
Vote on this Story by clicking on the Icon