continued — On Wednesday, Feb. 1, there were stacks of Triscuit Red Chili crackers, Ritz cracker sandwiches, Cheerios, freeze pops and crates of Pepsi products. Bins of baked goods like pies and cupcakes with miniature footballs on top sat near carts piled high with bread, donated by Freihofer's each week.
"This (pie) would be perfect for either a food pantry to give out to a family or a soup kitchen. This is a dessert that a lot of times they can't give to people because they just don't have the money," said Quandt. "It's a nice treat when you don't have much else going on in your life to get something special like that."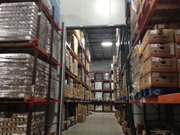 In the middle of the warehouse are a couple ropes dangling from the ceiling; give them a tug and a door will shoot up, revealing in a burst of frigid air huge walk-in freezers and coolers for dairy, produce, meat and anything else to be kept fresh. Those items are stored and brought out in batches to coolers with clear doors (like the freezers in grocery stores) where agencies can pick and choose what items they want.
Wednesday's selection included cream, 5-pound blocks of President brand brie, pre-made pasta meals from Hannaford, dips, milk from Price Chopper, frozen veggies and more.
"This brie, that's great for an agency and what we do here is we have a shared maintenance fee we charge, so it's 16 cents a pound, for about five pounds, it would be 80 cents," said Quandt. "Something like that would go for an on-site program preparing meals."
Each day, volunteers from various agencies come by to collect what they need. Other agencies get the food delivered right to them.
"We monitor it a little bit but people take what they need," said Quandt. "Sometimes there are some limitations on some of the items … because we have limited quantities and don't want one or two agencies taking the whole thing."
Vote on this Story by clicking on the Icon