CAPITAL DISTRICT — For generations, flowers have been a symbol synonymous with love and devotion.
King Charles II in the 17th century first introduced Sweden to the "Language of Flowers," a study deriving from Persia that designates a special meaning to each variety of flower and even blossoms of particular colors. In later years, Victorian-era beaus communicated with their loved ones using the special language through single flowers or bouquets.
According to floriography, a white lily symbolize purity, lavender can mean mistrust, a marigold is a sign of grief and the Valentine's Day staple, a red rose, signifies true love.
Today, few people remember the flower language, but the tradition of giving them on days devoted to love is still popular. For most florists, this makes Valentine's Day the busiest day of the year.
"Obviously jewelry and candy are popular, great gift options, but flowers are more significant when you look at what they truly mean," said Frank Gallo Jr., owner of Frank Gallo and Son Florist based in Schenectady.
Although the symbolism of most flowers is lost on the typical customer, some hold special meanings for other reasons.
Tim Healy, a designer at the Posie Peddler in Saratoga Springs, said husbands often ask for the same flowers their wives carried on their wedding day, or an exotic flower that might hold special meaning for the couple.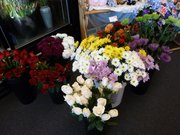 "I would suggest ordering early if there's a certain flower you know they like," he said. "We usually have a huge variety, but just to make sure we can get it in."
But roses are still the most popular order, by far.
According to Gallo, about 17,000 roses are sold during the week of Valentine's Day in his three shops in the Capital District, compared to just 1,500 sold on a typical day.
Florists spend weeks to prepare for Valentine's Day by processing flowers, taking on extra staff and calling in special orders.
(Continued on Next Page)
Prev Next
Vote on this Story by clicking on the Icon