SCHENECTADY — For one teacher, the dream of starting a completely new musical learning experience is being realized, and students are helping plan for the opening day.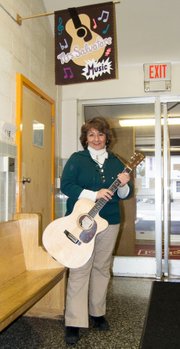 Mary Salvatore, a Schenectady resident and music teacher at Brown School, is moving forward with her idea to start a music cafe within the school. The projects calls for a current music instruction room to be renovated to host performances by students, alumni and community members.
This past quarter, the Schenectady private school had a cafe elective, which had students helping set up and prepare the cafe design. Sponsors are helping the school with expenses.
Seth Marshall, an 11-year-old Scotia resident and Brown School student, was enthusiastic about starting the cafe as a place to play in front of his peers and others.
"I think the cafe idea is wonderful and I love performing," Marshall said.
When he first came to the school four years ago, he said he thought it would be like a traditional school. He was happy to see it focused on music and alternative instruction.
"I love music," Marshall said. "I like that I can try different types of music … I get to hear music that I hear outside of school and I get to hear music that I've never heard before either."
Salvatore started the guitar program at the school over 10 years ago with five guitars, but over the years the collection has grown to over two dozen. The cafe is what she sees as the next step in the program. Every student takes guitar lessons with her in 4th and 5th grade with the option to continue.
There are also benefits to students with interests outside of music.
"It is beneficial for so many people in so many different areas," Salvatore said. "We want our students to see what it is like to be an entrepreneur. A lot of our students were looking at the business aspect of this … it was really a team effort right from the beginning."
(Continued on Next Page)
Prev Next
Vote on this Story by clicking on the Icon