continued — Head of School Patti Vitale said students are learning about the finical aspects behind the project, such as applying for grants and reaching out to businesses for sponsorship.
"It ties in all the things they have been learning," Patti said. "It takes all the skills they are learning in school and puts them to a practical use."
Larissa Vassolas, a 12-year-old Niskayuna resident, has severed as the person to dispense information to all the other students. Also, she has dealt with financial aspects of it.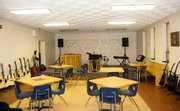 The cafe is planning to have a grand opening event around the start of the next school year in September, but there are three events planned leading up to it. The first will be for the Brown School community, then someone from the outside community performing and the third event will see teachers with private students taking over the stage for a recital.
The school plans to collect non- perishable food items to donate to local food pantries at the performances.
Salvatore said she has had the idea for something like the cafe for many years and was happy to see it being implemented at the school.
"It has been brewing for several years, because I also teach privately and I knew there was an importance of having some type of a venue for the students to have recitals yet," she said. "That idea didn't fall on the right ears until I mentioned it to Ms. Vitale and she said, 'Let's go with it" … I am happy she is a progressive thinker."
The initial renovations will include painting, lighting and renovating the stage area. Artwork by local artists will also be displayed in a gallery space, with tables and refreshments served.
Vote on this Story by clicking on the Icon