SCHENECTADY — The Schenectady Light Opera Company's Electric City presence hasn't dimmed in over eight decades of theatrics, and a round of renovations is illuminating a bright future.
A variety of musical styles and subject matter round out SLOC's upcoming 2012-13 theatrical season, which is its 86th offering. SLOC Business Manager Brett Putnam announced the five shows on Thursday, Feb. 2, which in order of performance includes "Next to Normal," "Little Shop of Horrors," "Dirty Rotten Scoundrels" and "The Sound of Music." The season will conclude with "Sweet Charity."
John Samatulski, spokesman for SLOC, also gave a tour of phase one renovations to the theater, which are nearly completed. There are two additional phases encompassing the $3.6 million project to renovate three historic buildings to create a modern performing arts center.
Start of a lasting performance
The non-profit community based theater company has deep roots dating back to 1926, but SLOC's purchase of the former St. John the Baptist Church in April 2010 set the stage for a new path. The group was formerly at 826 State Street.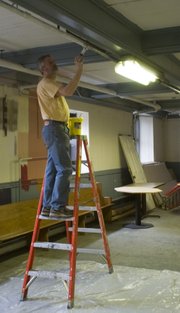 "It is a very exciting time, because in essence what you see is one of the oldest theater companies in the country kind of reinventing itself for the 21st century," Samatulski said. "I think given the long history of producing musical theater has given the organization … wisdom. When we looked at this project we thought about the long term."
Since hosting performances in the new theater for the 2011-12 season, ticket sales have increased more than 30 percent compared to the previous year, according to Samatulski.
"It has definitely been a good move for the organization. It has been a good move for the community," Samatulski said. "We are just a block away from Proctors, surrounded by parking and three historic buildings."
(Continued on Next Page)
Prev Next
Vote on this Story by clicking on the Icon