continued — The first phase of renovations sought minimal improvements to utilize all three buildings, which involved converting the church into a theater, the rectory building into a theater annex and improving the school building to provide low-cost rental opportunities for educational and nonprofit organizations.
Even the minimal repair of replacing the sprinkler system cost $150,000 and seating platforms came in at $30,000, but Samatulski said now the vacant church and surrounding buildings are seeing a new life.
"There was some talk about making this whole thing a parking lot," he said.
The education building is already hosting Northeast Ballet on the third floor, with the rooms decked out in wall-to-wall mirrors. The second floor holds over 20,000 costumes, but also serves as another performance area down the long hallway, which Samatulski dubbed "The Great Hall." The original church pews line the corridor.
Part of the second phase of renovations is already underway, with the first floor of the education building being turned into a multi-use performance area. This area could also be used to host workshops or conferences.
Additional plans for phase two include constructing an outdoor stage in the courtyard garden with new landscaping. Also, the Franklin Street entrance is planned to have a new lobby to welcome guests.
Samatulski said it was important to move SLOC to downtown Schenectady to be attached to the rebirth of the city.
Photo Gallery
SLOC continues to grow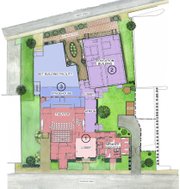 The Schenectady Light Opera Company is settling into its new downtown facility.
"We had made the strategic decision to move downtown and be a part of the arts and entertainment district," he said. "(SLOC's former building) did not have air conditioning, did not have adequate parking, had no handicap accessibility, so there were major issues with that building anyway."
The final phase of the project will solidify the project as a model for other community arts developments and historic renovations, Samatulski said.
Vote on this Story by clicking on the Icon