continued — "The third and most ambitious phase we anticipate four to five years out — we are here for the long hall — is to build a new stage house," Samatulski said.
The new stage house would be set back from the current stage, allowing SLOC to present a wider range of productions and events while respecting the historic architecture. New sound, lighting and rigging is also planned.
Without help from sponsors, donors and hundreds of volunteers, SLOC wouldn't have been able to achieve its vision, Samatulski said. All of the members of the theater company are volunteers.
"It is very empowering and it is very encouraging," he said, "people have continued to give time and time again … it is the theater company members that are really the core of what is happening here."
New season for new digs
"This year we have decide to come together with five shows, all of which we are very excited to present for the next theatrical season," Putnam said.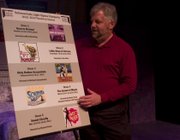 "Next to Normal" is a "very hot and new show" just off of Broadway, said Putnam, which will be its first major local production. The rock musical is set in modern suburbia and focuses on one family's struggle with mental illness. Mike Mensching will direct the show, with performances on Oct. 12-14 and 18-21.
"Little Shop of Horrors" is SLOC's youth show for the season, starting on Dec. 7, and it will feature budding actors along with a production group mostly comprised of peers.
"It is a great opportunity for SLOC to reach out to the youth of the area," Putnam said. "Our youth productions have been very well received in the past and we continue that commitment."
"Dirty Rotten Scoundrels," directed by Mike Gatzendorfer, is a musical about two con men living on the French Riviera swindling women out of their money. A battle soon ensues, pitting the two men against each other to decide how much to leave the small French town. The show will be performed on Feb. 8-10 and 14-17.
Vote on this Story by clicking on the Icon