CAPITAL DISTRICT — By the end of 2012, more than $15 million will have been spent on improvements to Albany International Airport after a year of construction projects.
"We are constantly looking at innovative systems and procedures to improve our passengers' experience and to introduce operational efficiencies at the airport," said David E. Langdon, chairman of the Albany County Airport Authority.
One project already underway is replacement of the terminal's entire terrazzo floor, including the ticketing area and baggage claim area. With a $800,000 price tag attached, the renovation effort began in early February and will take about three months to complete.
"There's a number of temporary walls up in the terminal to direct people around it as they do the work. The work is done at night," said Doug Myers, airport spokesperson.
Terrazzo is a liquid that's spread out on the concrete floor about one quarter to one half an inch thick. After it hardens, it's polished to a shiny finish. The terrazzo comes in different colors and designs and has little stones in it.
"What has happened in many places is it started to not adhere to the concrete beneath the floor and we're seeing little pockets of it, little bulges," said Myers.
The floor hasn't been replaced since the terminal opened 14 years ago, so this fresh finish will bind the terrazzo to the floor stronger than before.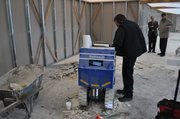 "It's the right time to do it; a cosmetic thing that has to be done. It's like painting your house, you don't want to get behind," said Myers.
Another project set to get underway later this year is a phased program to replace all the lights in the terminal with cost efficient LED lighting. The airport's annual power bill is $2.7 million, the equivalent of more than 1,300 homes, but the LED lights are expected to cut that cost by about $300,000 each year.
(Continued on Next Page)
Prev Next
Vote on this Story by clicking on the Icon