But they almost missed the appointment too, because Robert's daughter, Christy, got her car stuck in their snowy driveway. Christy was able to get the car out with little time to spare.
"Thanks to her, we were married on Valentine's Day at Town Hall with close local family members in attendance," Anne said. "All of us then went to Glen Sanders Mansion for a lovely dinner accompanied by romantic music played by a harpist."
She said having a Valentine's Day anniversary has the perk of restaurants already outfitted for a romantic dinner.
"For us it is doubly romantic 'cause it is our wedding anniversary and Valentine's Day," she said. "Every year when you go out for your weeding anniversary on Valentine's Day they have the rose and musicians, it is already set up to be romantic."
Valentine's Day also holds a special memory for Carole Chaisson of Scotia, even though she didn't marry her husband, Thomas, on the holiday.
The Scotia couple went to Village Hall on Valentine's Day and received an unexpected gift upon purchasing their marriage license.
"When we received our Valentine's Day marriage license, we also got a basket of goodies such as canned vegetables, packaged soup mix and one item we laughed about later — aspirin," Carole said.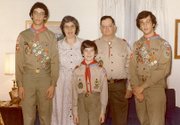 The aspirin is what stuck in her mind, she said, because she "got a kick out of it" and didn't expect the box filled with goodies.
Somebody at Village Hall had a good sense of humor, she said.
"Somebody must have made that up for Valentine's Day … I have no idea, but that is what we received," she said.
One of Chaisson's three sons, Patrick, joked he was a major reason they used so much aspirin.
She replied it wasn't "always true" that Patrick was the cause for need of some relief.
Vote on this Story by clicking on the Icon