continued — Many local union members spoke favorably about the PLA and urged its passage.
"You listened and understood the critical role that the nursing home has played in the past and present and will play in the future of Schenectady County families," Sara Couch, member of 1199SEIU United Healthcare Workers East. "Your positions have been both cost effective and compassionate. Despite what a minority of people argue, you understand that these two points are not mutually exclusive."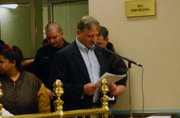 Bob Mantello, president of Bricklayers and Allied Craftworkers Local 2 New York and Vermont, said 200 of the 1,500 workers he represents live in Schenectady County. He touted the PLA for creating work opportunities for local residents.
"This project will ensure the protected dignity of our elderly allowing them superior care, which they certainly deserve and have earned throughout their lifetime here in Schenectady County," Mantello said. "This is a true investment back into our community."
Jason Planck, a Schenectady resident and disability advocate, claimed the county's targets for the disabled and minority population aren't properly addressed in the PLA. Planck also referenced a section of the agreement that allows the project manager to select "any qualified bidder" to award contracts.
"This means that a guarantee of the lowest bidder does not have to be achieved, thus violating the competitive bidding process that has been effective to protect public money," Planck said.
Buhrmaster continued to voice his opposition to the entire project and questioned the need. After talking to private nursing homes within the county, he said he's heard they are willing to take in more residents and are expanding.
He also urged the county to look into keeping people in their homes.
"The federal government and the state government right now are encouraging us to keep people in their homes, not in county-funded nursing homes," Buhrmaster said. "We need to take care of our people and our residents, but not at our taxpayers' expense and that is what we have here."
Vote on this Story by clicking on the Icon