BETHLEHEM — Veteran hiker Alan Via began climbing the smaller peaks of the Catskills alone with his dog Bookah nearly five years ago.
Soon, hiking the group of often overlooked mountains became a personal quest for him to finish and the seeds for his first book, "The Catskill 67: A Hiker's Guide to the Catskill 100 Highest Peaks under 3500" were planted.
"My wife would laugh because this is how it started with all the hiking lists I've ever done," the Slingerlands resident said. "Eventually the list takes over and I'm out every weekend chasing it. There are just so many peaks out there unnamed or unknown to the public."
Via has been hiking mountains for more than 40 years. He was an avid fisherman and hunter in his youth and a coworker asked him to join the Adirondack Mountain Club when he was in his twenties.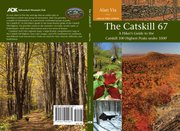 Since then, he was the club's outing chair for 14 years averaging 200 trips a year, the head of the Bethlehem Area YMCA Hiking Group and a moderator for the online hiking forum "Views from the Top." He is a member of the Catskill 3500 Club, an Adirondack 46er and a New England 111er.
The book was edited by Times Union journalist and hiker Fred LeBrun.
"It was a terrific amount of fun to go over these peaks," said Via, who started taking notes and pictures along the way. He did all of the peaks by himself first, with only Bookah the dog for company. The chocolate lab is the first dog to hike the 100 highest peaks in the Adirondacks and the Catskills, with Via training her for the climbs since she was a pup.
"It's been a fun experience to see her grow up and become experienced hiker," he said, of the now 7-year-old Bookah, or "Boo" for short.
(Continued on Next Page)
Prev Next
Vote on this Story by clicking on the Icon