GUILDERLAND — In April, the University at Albany will break ground on a new $24 million project to update the school's outdoor athletic facilities — something officials said has been years in the making.
"Believe it or not, the university first started talking about making upgrades to our football field in 1973," said UAlbany President George Philip at a press conference held to announce the project at the university's SEFCU Arena.
University Field and the existing track were first built in 1963 and school officials said few renovations have been made since that time. The facilities, especially the track, do not meet the current National Collegiate Athletic Association guidelines or access codes, and seating is described as inadequate.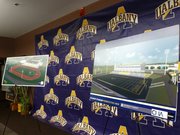 Albany Mayor Jerry Jennings, an alumnus of the university, said the school has been talking about the upgrades since he was a graduate student. He now believes UAlbany's athletes will be competitive on the national level.
Head Football Coach Bob Ford said the current facility hasn't helped with recruiting players.
"We've never said 'let's go out and show you our stadium,'" Ford said.
Ford started the school's football team as a club sport in 1970. Players are now essentially playing on the exact field used 42 years ago.

The new complex will be constructed in three phases and will include a multi-use synthetic field for student and intramurals use, an enhanced football and soccer facility able to accommodate NCAA Division I competitions and repairs and upgrades meeting NCAA Division I standards to the university's track and field.
The football and soccer facility is slated for completion in the fall of 2013 and will be built on an area around an existing football field to the southeast of the SEFCU Arena. It will include 4,000 permanent seats, 2,000 berm (hillside) seats and nearly 2,000 temporary bleacher-style seats.
(Continued on Next Page)
Prev Next
Vote on this Story by clicking on the Icon