NISKAYUNA — If barbecue is the first thing that comes to mind thinking about LT's Grill, owner L.J. Goldstock is hoping to change your mind.
LT's Grill in Niskayuna is going to be shutting its doors after business on Saturday, Feb. 25, and when it reopens on Thursday, March 1, the doors will swing open to a newly imagined dining area and sports bar.
For now, Goldstock is keeping specific details hidden, but the dining area is planned to feel more separated from the newly designed sports bar. The changes are mostly driven by customer feedback he has received over the years, but he also wants to highlight his seafood and steak offerings.
"We've been here five years and we have gone through a lot of changes," Goldstock said. "We've done those primarily for customers … so I have been listening to the customers to keep people motivated to keep coming in here."
But one of the main things he wants patrons to see is what's offered outside the barbecue fare the eatery is known for.
"We have redefined our menu to bring out more steaks, more seafood and more pastas rather than being known just for our great dry rub wings and ribs," he said. "People don't realize the steaks that we have, the seafood, the live lobster, the fresh pasta — all these things that we do have, they are as good or better than the barbecue that I have.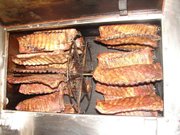 He said barbecue is "one dimensional" and people aren't going out for barbecue as much as they go out for a "regular dinner." To help drive more business, he wants to spotlight different tastes.
"We are a completely different restaurant from the first day we opened," he said. "We have gotten smacked around a few times on some things that we have tried, not everything works, but we really paid attention to the customers this time in this rebuild."
(Continued on Next Page)
Prev Next
Vote on this Story by clicking on the Icon