CAPITAL DISTRICT — Each Valentine's Day for the past six years, a group of grannies dressed in red can be seen on the streets of the Capital District carrying broken hearts, physical representations of their feelings.
"What Grannies for Peace want is no more wars, no more wounded. So our hearts are broken today (Valentine's Day) by the horrible physical and emotional damage to vets of the Iraq and Afghanistan wars and the inadequate treatment they receive," said Dot Richards, a member of the group and a Delmar resident. "We call today for greatly strengthened healthcare for our wounded warriors." 
Barbara Cooley, a co-founder of the group Grannies for Peace and also a Delmar resident, said the organization originally formed in 2006 as an offshoot of the Capital District Women Against War group.
"We are a focused group of the older women in the organization that wanted to be more positive," she said. "Instead of being against something, like Women Against War, we wanted to be for something."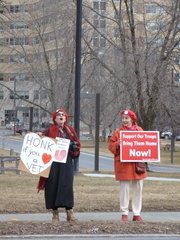 The Capital District Woman Against War began in 2002 and is an anti-war activist group that believes women can develop alternatives to violence. The organization focuses on the cost of war to women and children and lobbies for peaceful negotiations.
In contrast, members of the Grannies for Peace group focus their efforts on working on improved healthcare for returning veterans and reform to recruitments in area high schools.
According to their website, some are actually grannies and some "are just women of a certain age who could be grannies and care about creating a more peaceful world for our young people." The group is about 80 members strong.
Each Valentine's Day the group stages a small demonstration at one of their places of interest in hopes of drawing attention to their cause. Past demonstrations have been held at the military recruiting office in Colonie Center, and this year's demonstration was outside of the Albany Stratton VA Medical Center.
(Continued on Next Page)
Prev Next
Vote on this Story by clicking on the Icon