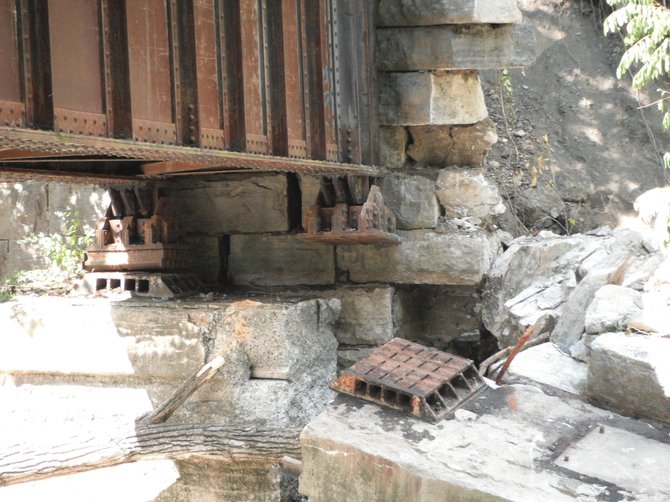 BETHLEHEM — A new plan hatched by Bethlehem officials would see the demolition of a bridge over the Onesquethaw Creek so federal damage funds from Hurricane Irene could be diverted to fix the roof over the town's pool.
Town Engineer Paul Penman presented the plan to the Bethlehem Town Board at its meeting on Wednesday, Feb. 22. Penman asked the board to approve pursuing an alternative project in lieu of replacing the bridge damaged in last year's Hurricane Irene, which the Federal Emergency Management Agency would allow if the new project is shovel ready.
"Usually I'm here asking for money and tonight I'm here telling you how we can spend some money, so it's a good thing," said Penman.
According to estimates, it would take nearly $575,000 to restore the rail bridge, which Penman said is rarely used. The alternate plan would call for about $200,000 of federal aid money to be spent on the demolition of the bridge and $300,000 on replacing the roof over the Elm Avenue Park Pool House.
Penman said FEMA allows up to 90 percent of restoration funds to be put towards an alternate project.
"This is a project we need to do, not want to do," said Penman of the new roof on the pool house.

Originally, $100,000 had been budgeted in 2011 for basic repairs to the roof, but upon further inspection there was significant damage to some of the roof's support beams, according to Penman. He said the roof is currently safe, but if the alternative project isn't approved the town will need to find $300,000 in the near future to pay for the repairs.
FEMA would contribute 75 percent, or $375,000. Another $62,500 would come from state aid and the town would need to match that amount. Penman said the town's contribution could be taken from the $100,000 originally budgeted to fix the pool house.
(Continued on Next Page)
Prev Next
Vote on this Story by clicking on the Icon