continued — She's taken on the role of mentor for many, and that's a large reason why she's so accessible.
"It makes me feel really good to be there because that's who Tyler was. He was everybody's therapist. I can never do as good a job as Tyler," said Rhodes, recalling how he used to help her through disagreements with her fiancé.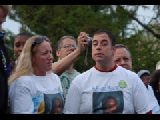 Rhodes will share her story at Sand Creek Middle School, where her son attended school, on Thursday, March 1, at 6:30 p.m. The presentation is for parents of middle school and high school students and Rhodes will meet with every student in the school throughout March.
"Stacey, after his unfortunate death, has been going around talking to kids about the importance of walking away in violent situations instead of feeling that you need to stand up or feeling you need to take it head on," said Jill Penn, chairperson of the school's Bullying Prevention Committee.
Rhodes' visits are part of the school's Olewus bullying prevention program, which was started five years ago. It focuses on educating and empowering students to improve relationships between peers, which builds respect.
"We try to stress that every single person in our building is individually different but at the same time should be respected for their differences," said Penn. "It breeds that culture of acceptance we're working to establish."
Poor peer relations are what prompted the school to take action, said Penn, and the program already seems to be working.
"Over the past five years, kids are reporting that bullying has decreased more than 60 percent," said Penn, citing an annual survey that students fill out anonymously. "They report to us where things are happening and how they feel about them."
Penn said students report feeling "safer" and "more comfortable" at school and say they're not as worried about talking to adults when they need help.
Vote on this Story by clicking on the Icon