DeCosmo is a regular at the expo and said he enjoys interacting with the people who attend.
"It's a lot of fun for everyone involved, including the vendors," he said.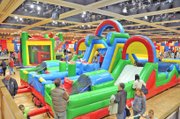 Like DeCosmo, many vendors at the Expo will be making return trips. Perennial favorites include Mad Science, which lets kids take part in a hands-on science experiment; the Northeastern Professional Golf Association, which will let kids get their swings in at its booth; and Hola La, a Spanish language program geared to kids that incorporates puppets and music.
New this year is the Hannaford Healthy Kids Room, where kids can customize a cooking apron and enjoy free healthy snacks and bottled water. Clifton Park-based Tiny Tots Tea Room will offer arts and crafts and a play space designed just for infants. There will also be mini-manicures that benefit the Autism Society.
"The B-Bomb Show" will use puppets, sets and props to teach students how to combat bullying. Put on by the Theater Institute at Sage, the show runs for about a half hour and encourages audience participation.
Whereas "The B-Bomb Show" is an original production, "Fish Face" is based on the popular book series Kids of the Polk Street School. Blackman said he and his brother read a lot of children's books and look for ones that would be a good fit with ArtsPower's mission. In the 26 years since the company launched, it has put on 27 musicals, Blackman said. Some are based on classics such as "Harry and the Dirty Dog," "Ann of Green Gables" and "Are You My Mother?"
"They're good stories with messages," Blackman said.
He and his brother both have 16-year-old daughters, who helped steer them to books as they were growing up, such as Ludwig Bemelmans' Madeline series.
The brothers' first show was "Four Score and Seven Years Ago," which is also part of the 2011-2012 season. The musical centers on Lemuel, an escaped slave, and Jacob, a young Confederate soldier. The lessons the show taught in 1989 are as relevant as they are today, Blackman said.
"Our focus has always been on education," he said. "That, and to give students some exposure to live theater."
"Fish Face" will be performed three times at the Egg during the expo. Admission to that show and all expo-related activities is free. Prizes will be announced every hour. For more information, call 474-0538 or visit www.expirestateplaza.org.
Vote on this Story by clicking on the Icon