continued — Colonie's central location in the Capital District, said Connor, has helped attract new members. There are some band members though far from the area facility, including Massachusetts and New Jersey.
"People are starting to get to know us," she said.
Currently, there are around 25 bagpipers in the band and 15 drummers. "In the entire country there is probably less than 10 youth-orientated pipe bands."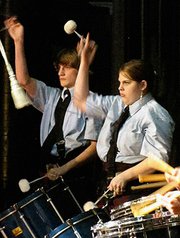 Around 10 years ago, the group started recruiting kids from outside of the Scotia-Glenville community. The band did start out as a mixed age group, but Connor said it was important to have a youth-based organization since it's an uncommon, but useful learning environment. Now it is open to people 18 years old and younger.
"When young people are with each other and learn with each other, they develop to a way higher level than when in a mixed-age band," she said. "I was very motivated to develop young players because the only way to develop an excellent, high level of ability is when you start young," she said.
In Scotland, she said it is very rare for an adult to learn bagpipes, but in this country many bagpipe players don't learn until they are adults. Since there aren't many competitions where the band can compete against its peers, she said The World Pipe Band Championships is important because there are a bevy of youth bands in Scotland.
Admission to the Celtic Jam at Scotia-Glenville High School is "pay what you can," with all proceeds going to benefit the band. Funds raised helping to purchase uniforms, equipment and teaching programs.
Also, if you like what you hear and want to be a part of it, the band is hosting an Open House on Wednesday, March 28, at the Celtic Hall at 430 New Karner Road in Colonie at 7 p.m. The spring term of classes begin on April 4.
Vote on this Story by clicking on the Icon