BETHLEHEM — Amir Salman and Faiza Warsi never thought their dream of coming to America and opening a business would end this way.
The Getty gas station in Delmar has been operated by Salman since it opened in 1989, after he came to this country from Pakistan. When he married Warsi and she joined him here, she also joined the business. Now their dream is about to end because of high gas prices and a bankruptcy protection suit filed by Getty Petroleum Marketing.
"They are using our goodwill to rip the customers off," said Warsi. "On the face of it we look bad because it's hard to explain to every customer. Plus people forget what's really happening."
Getty Petroleum Marketing filed for Chapter 11 bankruptcy protection in December of 2011 after its landlord, Getty Realty, threatened to sue the company for not paying its rent, according to court documents. The company was recently sold to Cambridge Securities, but still owes its previous owner millions.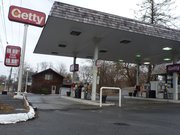 Warsi said sales started to slip at the Delaware Avenue location when the gas prices set by Getty continued to climb last year to almost 7 cents more than competitors across the street. The couple was then informed the company would try an "experiment" for several months, setting different prices for cash and credit paying customers.
According to Warsi, in October her prices were $3.79 for credit and $3.71 for cash. Her competitors across the street were charging $3.65 for both methods of payment.
"If you pass by and you see my gas is higher, would you stop? Or mind paying 10 cents extra for cigarettes (across the street)?" asked Warsi. "No you won't. You can't make five trips each day."
Warsi said customers began to complain about the high prices and the different fees for separate payment methods, some insisting the practice is illegal. She told Getty the experiment wasn't working and that she wanted to revert back to the old policy because of the complaints, but they told her no.
(Continued on Next Page)
Prev Next
Vote on this Story by clicking on the Icon