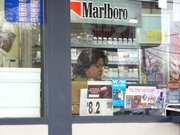 continued — Delmar resident Sue Perry said she has been a customer at the gas station for 16 years. She thinks it's terrible to watch what is happening to a local, family-run business. Over the year, she said the family has slowly become her friends.
"She's worked 14- to 16-hour days, making about 25 cents an hour for the last six months, Perry said. "It's been bad."
The company informed Warsi her location was considered a "political location," she said, and they would not close her down even if she couldn't afford the rent.
"They won't come and close it because they understand if they close it people will react here. It's a small community and a very close-knit community. That's the beauty of Delmar," said Warsi. "When we are in trouble we become one. That's why I think we are superior to all other communities. If this was happening in Latham or Albany, people wouldn't even care. … People are really worried. They aren't worried because Getty is going out of business, or a gas station is going out of business. They are worried because they understand a family of Delmar is going out of business at the hands of corporate-giant America."
Warsi has been petitioning the judge in the bankruptcy case so he will understand the situation from the perspective of the retailer. She feels Getty Petroleum will eventually come out unscathed and the majority of the 800 small retailers across the county will be forced to close their doors.
"These are thieves without guns, trying to put small businesses out of business," she said. "Tomorrow they will come and make a nice new station and ask for us for $200,000 to be able to stay."
According to court documents provided by Warsi, Getty Petroleum has an estimated $50 to $100 million in assets and an equivalent amount in liabilities. The company also said it would most likely have enough capital to fund normal operations through its reorganization.
"I just didn't have the money to pay them anymore," she said of her decision to stop taking the company's gasoline. "I couldn't take the negativity from customers."
Getty Petroleum is not making rent payments to Getty Realty. In turn, the company is not making Warsi pay rent on her space, which is keeping her doors open a little longer. She is unsure when the business will officially close.
Vote on this Story by clicking on the Icon