ROTTERDAM JUNCTION — What many people believe to be the Dutch's role in forming the America of today might fall short of the full story.
A bigger part of that tale is now on display, as the Schenectady County Historical Society is hosting the "Light on New Netherlands" traveling exhibit at the George E. Franchere Education Center at Mabee Farm in Rotterdam Junction from now through Feb. 28.
The exhibit is produced by the New Netherland Institute and consists of 26 panels aimed at introducing important but little known aspects of what role the Dutch played in the settlement and development of colonial America, most specifically the development of New Netherland, the Dutch colony that stretched from Albany to Delaware in the 17th century.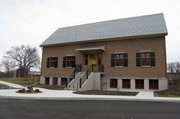 Some of the subjects presented include exploration, the fur trade, establishing government and the interaction between Dutch settlers and Native Americans.
"It really touches on a lot of topics of Dutch culture and life here that's often glossed over," said Ryan Mahoney, curator of the Historical Society. "You learn about Dutch history and the new colony … as just a brief blip. It is like, 'All right, the Dutch showed up and then the American Revolution happened.' Really, there was so much more going on."
The New Netherland Institute works to enhance awareness of Dutch history in colonial America and it supports the translation of early Dutch documents through the New Netherland Project.
"This is a part of history that a lot of people are not aware of, even people living right in this area," Mahoney said. "All of the information here is actually taken from the original documents that are on file at the New York State Archives and are being translated even today."
There is also a 17-minute video included in the exhibit, "Illuminating New York's Dutch Past." In the video, researchers Charles Gehring and Janny Venmea provide background information about New Netherland and explain the importance of using document-based evidence. It also tells the journey of the Dutch documents and how they survived through the years.
(Continued on Next Page)
Prev Next
Vote on this Story by clicking on the Icon