continued — In 1974, Gehring, a former University at Albany professor, began the translating into English the documents written in 17th century Dutch. There are approximately 12,000 surviving handwritten documents. According to the video, the Dutch settlement in New York is often referred to as "the forgotten colony."
"I became so intrigued with this information knowing that people didn't know about this at all," Gehring said in the video. "For me … what better combination could you have translating Dutch documents of a historical period that few people knew about?"
The New Netherland colony was short lived, lasting just over 60 years, and came to an end on Aug. 27, 1664, when English warships entered the harbor and focused canons at a small fort at Manhattan Island's southern tip, demanding the colony be turned over to England.
"There is always this simple painted version of what was going on here and really it was a much more complex society," Mahoney said.
One the panels Mahoney said is unique and possibly less known details slavery in New Netherland.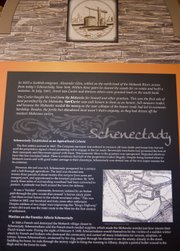 "A lot of people never think of this area as being a slave holding area, but even here on the farm we had up to five slaves working," Mahoney said. "Slavery basically happened here right off the bat in 1625."
There is also a panel exclusively dedicated to Schenectady heritage.
Mahoney said the current exhibit also is a nice follow up to the previous exhibit featured at the education center, which was a collection of Len Tantillo's paintings focusing on historical images of New Netherland. Tantillo's artwork is also featured on some of the panels in the current exhibit.
"It is a great follow up to the Len Tantillo exhibit, because a lot of his paintings depicts what's told in here," Mahoney said. "This is the information behind it, what is going on here … and that's why his artwork plays such an integral role in this exhibit as well."
The education center is located at 1100 Main St., Rotterdam Junction, and is open from 10 a.m. to 4 p.m. from Monday through Friday. The cost is $5 to the general public, with historical society members entering free of charge. For more information on the Schenectady County Historical Society or the featured exhibit, visit www.SchenectadyHistory.net or call Curator Ryan Mahoney at 374-0263.
Vote on this Story by clicking on the Icon