Photo Gallery
Town of Colonie swearing in ceremony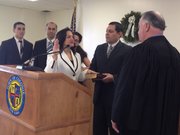 COLONIE — There was standing room only in Colonie Town Hall for the swearing-in ceremony on New Year's Day Sunday, Jan. 1, when Supervisor Paula Mahan, three Town Board members, a town justice and the town clerk were sworn into office.
"This is a wonderful day here in the Town of Colonie and a wonderful day to begin 2012," said Mahan. "I am really honored to stand before you to begin my third term as Colonie supervisor."
Congressman Paul Tonko kicked things off with opening remarks.
"I hope it's a year of great political harmony, of consensus building, of academics that will speak to the empowerment of the people we have the honor and pleasure to represent," said Tonko.
Tonko said he was looking forward to working with local officials in the coming year.
"Today I pledge my assistance, my partnership, in whatever form or fashion, to work to my very best with you to empower the people of Colonie, Albany County and our region," said Tonko.
Deputy Supervisor Nancy R. Hernandez and Town Board member William E. Carl were both sworn into second terms by Supreme Court Justice of Albany County Eugene P. Devine.
Paul D. Rosano, a former planning board member, was sworn into his first term on the Town Board by Family Court Justice for Albany County Margaret T. Walsh.
Mahan was sworn in by Albany County Supreme Court Justice Joseph C. Teresi.
Town Clerk Elizabeth A. DelTorto and Town Attorney Peter G. Crummey were also sworn in.
Mahan took a few moments to thank her supporters and to reflect on 2011.
"We've made great progress in the past four years with all of us working together, including all of our residents and business people, all our staff, everyone together, and I look forward to even greater success in the future," said Mahan. "(Last year) was a very productive year in many ways, and now it really feels great to start 2012."
Vote on this Story by clicking on the Icon