CAPITAL DISTRICT — Rosemary Loveland has spent the past two years painting The Crossings of Colonie. She's accumulated 93 pieces of art — oil paintings and "painterly" photographs — and they're on display at the William K. Sanford Library from Jan. 3 to 30 in an art exhibit she put together for the residents of Colonie.
"I thought it would be really interesting to the people of Colonie to see their Crossings done as art," said Loveland. "I did it as a gift to the people of the town."
Loveland also decided to tackle documenting life at The Crossings as a challenge to herself. Since graduating with a bachelor's in fine art from SUNY Albany in 1997 at the age of 50, she's focused mainly on still life painting. Landscapes were completely foreign to her, and a bit out of her comfort zone, but it was something she had to do.
"I was never successful at landscape and wanted to challenge myself to grow as an artist, to make myself learn how to paint landscape," said Loveland. "I'm not even sure if I'm successful [at it] now, but it's done and it's the best I can do."
Some pieces are simply pictures of the natural world — birds frolicking, the sun sinking behind treelines, bright flowers and green grass. But others capture the people who enjoy The Crossings every day, from children sledding down a hill to a group of walkers to dogs and their owners.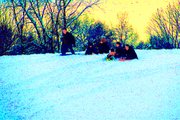 "With the photos I tried to alter them enough so a person wasn't really recognizable, and in the paintings I tried to maybe paint the back of the head … so people aren't too recognizable, but yet I do think there are people who probably will see themselves," said Loveland.
When she first scored a space and time for her art exhibit, she told herself she would create 60 images to display. She took more than 1,000 photographs, which she used to create her paintings, and as time ticked by, she decided to alter a portion of those photos in Photoshop to exceed her art quota.
(Continued on Next Page)
Prev Next
Vote on this Story by clicking on the Icon