continued — "I wanted to turn them into paintings, but I didn't have time because oil paintings take six months to dry," said Loveland. "I turned them 'painterly' on my computer … with different filters, changing colors, using paintbrushes."
The oil paintings she did have time to complete she created at home, not at The Crossings.
"I didn't ever stand out and paint," said Loveland. "Maybe someday I'll have the nerve to do that, but not yet."
Since she was using photographs as a model, she said she'd look for things that would translate well on canvas.
"Things like the sun shining a certain way on the trees or grass or snow. I was looking for light and things that would cause interest and what I consider beautiful," said Loveland. "I was looking for people because I want to show the use of The Crossings by the people. I was really amazed every time I went, even in a blizzard, there were people out there walking their dogs, skiing … the trails were just packed."
A degree in art might have come later in life, but painting has been a part of her forever.
"My grandmother oil painted so I oil painted when I was just a kid," said Loveland.
A career and raising a family eventually took precedence over her creativity until she decided it was time to pursue her dream again. Now, she said she'd paint all day, every day if she could.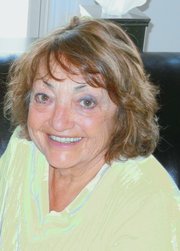 "I would paint if I didn't have anything to else to do. I always think about painting," said Loveland. "My favorite things to paint are still life and antique objects. I like to do paintings that look timeless – like they could have been done hundreds of years ago or could have been done yesterday."
Even though the exhibit was a personal test that she's eager to see if she passed, she doesn't want the show to be about her at all.
Vote on this Story by clicking on the Icon