ROTTERDAM — Angelo Santabarbara wanted to join a local veterans organization, but there was a problem — there wasn't one he could join.
Santabarbara, a Democratic county legislator from Rotterdam, served in the Army Reserves for eights years until 1998. Once he started looking around at local veteran groups, he realized he wasn't eligible to join any.
"I wanted to be a part of an organization with other individuals like myself that served," Santabarbara said.
Eventually he stumbled upon AMVETS, a veterans organization that includes members from each branch of the military, including National Guard and Reserves members. Active duty members of the military can join, too.
The broad range of acceptance in AMVETS is also what was appealing to Santabarbara.
"I like it because it doesn't exclude anybody, everybody is in," he said. "We are all under the same umbrella, we all served together."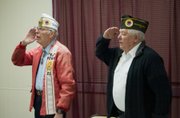 Now, Santabarbara and a handful of others are spearheading a movement to get a post started in Rotterdam. Drumming up interest has been an issue, though.
Around two years ago he reached out to "E J" Knapik, a past state commander of AMVETS, and met with him at a local diner. Santabarbara said it was Knapik who suggested he try to establish a post in Rotterdam.
"At the time I was like, 'Wow, I don't know how we would do that,' but he has been working with me," Santabarbara said. "It has been a long time … but hopefully we will get to the point where we can actually form this post."
Before the group's meeting on Thursday, Dec. 29, at the Gabriele D'Annunzio Sons of Italy Lodge No. 321 in Rotterdam, Knapik said recruiting members isn't as easy as it used to be.
"Six years ago when I had formed a post in Amsterdam, the veterans wanted to be a part of an organization. Nowadays with TV … and everything, guys just aren't joining it anymore," said Knapik, a Glenville resident.
(Continued on Next Page)
Prev Next
Vote on this Story by clicking on the Icon