continued — He commended Santabarbara for sticking to the goal of creating the new post.
"It is in my blood, but here is a young guy with a family and he is still willing to come out," Knapik said. "There would be a lot of functions that the area people will support, and by the same token the post will also support other activities in the area."
Santabarbara said being active in the community through volunteer efforts is important to him in establishing an AMVETS post. He added only a strong membership would allow for the group to remain active.
"I want us to have a strong membership, so that is why we have been taking our time," he said. "A lot of these people have been coming over and over again, but we have some new people, too. Hopefully over time we will have a strong membership and a strong core and we can really do a lot with the group. I don't want it to be something that is formed and then people don't show up or we are not doing anything."
Sitting at the table
The small veterans group's meeting, consisting of eight members, started off continuing the discussion of the previous meeting. Knapik brought forward a motion to move the location of AMVETS Post 21 in Amsterdam to Rotterdam.
"Everything would be the same, except reading Rotterdam instead of Amsterdam," Knapik said.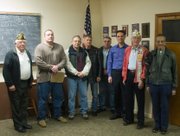 At first it appeared the group was set on the move, which would have the post retaining all of Amsterdam's members, but eventually the majority of opinion swayed.
Michael McGrath, of Rotterdam, first voiced opposition to absorption plan.
"I was under the impression … we were going to work it from the ground up, do it brand new, that's what I'm on board (for)," McGrath said.
Vote on this Story by clicking on the Icon