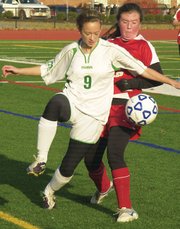 • The Schalmont girls soccer team made school history by winning its first state championship. The Sabres completed a 23-0-0 season by beating Greece Olympia 4-0 in the Class B final. Megan Strijek led the way for Schalmont in the state tournament by scoring back-to-back hat tricks, which earned her the tournament's most valuable player award. Overall, Schalmont out-scored its opponents 123-7 and didn't allow a goal in regionals or the state tournament.
Burnt Hills-Ballston Lake and Bethlehem both reached the state semifinals in girls soccer. BH-BL made its seventh consecutive trip to the Class A state tournament before losing in the semifinals, while Bethlehem went to the Class AA semifinals for the first time in school history.
• BH-BL's girls volleyball team won its fourth state title by defeating Mercy of Rochester 3-1 in the Class A final at the Glens Falls Civic Center. Kaitlyn Valade led the Lady Spartans with 15 kills and eight digs in the championship match, while Natalie Ziskin contributed 37 assists, six digs and three blocks. It was BH-BL's first state title since 2005.
Voorheesville made its second consecutive trip to the girls volleyball state tournament, but the Blackbirds were eliminated in pool play.
• For the third time in four years, BH-BL's football team reached the Class A state final. This time, the Spartans led Maine-Endwell 20-14 before the Section IV representatives struck for two fourth-quarter touchdowns to pull out a 27-20 victory.
Shen was hoping for its own trip to the state finals, but Newburgh Free Academy stunned the Section II champions 16-6 in the Class AA semifinals. The loss ended Brent Steuerwald's coaching career, but not before he picked up his 25th league title and his 13th Sectional crown.
Schalmont had its own hopes of a state title in football dashed by Croton-Harmon in the Class B semifinals. Tigers' tailback Trevor Wolstencroft scored the go-ahead touchdown with 3:34 left in the fourth quarter to lead his team past the Sabres 15-12.
Vote on this Story by clicking on the Icon