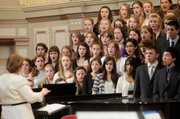 continued — The concert will raise money for the North Colonie Friends of Music piano project. Members of the high school choir will perform alongside the New York Voices and for a few students, this concert represents their own dreams.
"For someone like me who wants to go into music, that's pretty inspiring because it shows that people from here have gone on and do what I want to do, which shows it's possible for me, which is a little comforting," said Chris Brennan, a senior.
Brennan said he's excited to perform with such a "prestige group" and is looking forward to learning from them. He has plans to major in music education and vocal performance to eventually become a choral director.
"I've always been interested in music but a couple years back, I've seen singing connected with me a little more," said Brennan. "It's a way of expressing music and emotions and it kind of hooked me."
Alaina Boyle, a junior, also wants to go to college for vocal performance in either opera or jazz. She sees Nazarian's success as a sign of hope that she too can achieve what she wants to.
She also knows mastering her singing craft, especially in a difficult vocal genre like jazz, isn't easy.
"It takes a lot more effort to learn it but when it does it's very rewarding," said Boyle. "It has a very different sound. It's a mixture of different rhythms and different chords that people aren't normally used to. It has kind of a darker sound in general, but I think it's more expressive."
Frankie Conroy has no plans to pursue music when he graduates this year, but he said he's excited for the opportunity to round out his high school chorus career alongside a group well known in his family.
Vote on this Story by clicking on the Icon