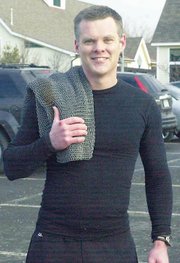 The tasks were as varied as the list of items that competitors needed. There was a seven-mile walk through a thigh-high river in the dark, there was a log-splitting station and there was a mountain climb while carrying a log that included memorizing a Bible verse word for word at the top and reciting it at the bottom. And that was only a partial list of what competitors needed to do during a 45-hour marathon.
"It's constant motion from one thing to the next without sleep," said Frasier. "You can go at your own pace."
So, how does one train for an event where you don't know what comes next? In Frasier's case, he trains by getting in half-hour runs at The Crossings in Colonie and lifting weights at home.
"I keep a lot of variety in my workouts," said Frasier. "I don't belong to a crossfit gym, but I follow a lot of the crossfit guidelines."
One thing Frasier is doing differently in preparing for the 2012 Spartan Death Race is running while wearing a chainmail shirt he made back in high school.
"What I'm hoping to start this year is weighted runs … because the most difficult thing about this race is weighted runs up and down a mountain," said Frasier.
Frasier's desire to compete in extreme events began several years ago when he was looking for a challenge that would motivate him to get in the best shape of his life. The first event he competed in was the annual Tough Guy Challenge in Great Britain. Then, he found the Spartan Death Race.
Frasier said that what attracted him was the variety of the challenges involved in these events.
"First of all, the obstacle course aspect of it can be fun – almost like a playground atmosphere," said Frasier. "It's like a giant playground for adults. There is something fun about it, and it isn't all about coming in first place either. There is usually a party aspect to it, too."
Vote on this Story by clicking on the Icon