continued — The most critical issue facing the district is budget-related, said Rosenthal.
"Budgets were a lot easier back in the '90s when I was on originally. The cuts made are devastating and I just want to see North Colonie be able to maintain the level of excellence in providing the education to our kids that we always have, dealing with the limited amount of money that we're facing."
Von Dell said he would bring a "common sense approach" to the budget process.
"Evaluate each choice and make sure it's the right choice and not just the easy choice," said Von Dell, adding that making sure the district's standards don't slip despite budgetary constraints is a priority.
He currently works as a tap auditor for Time Warner Cable but he said his theatrical background would serve him well as a school board member.
"I'm used to working in a collaborative environment since I have a theatrical background where we work toward a common goal and I would bring that to the board," said Von Dell. "… It's all about the kids and what we can do for them."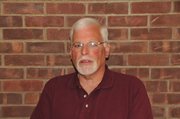 Rosenthal, who works at Regal Cleaners, said school board members have a responsibility to the community.
"We are the community's voices. We are the conscience of the community," said Rosenthal.
His biggest message outside of his qualifications for the job is to get out and vote.
"I want to make sure people get out and vote. You don't have to be registered to vote; just show ID that you're a resident at the polling location," said Rosenthal.
For more information about the Board of Education, the Meet the Candidates Night or the special election, visit www.northcolonie.org. There will be a budget forum immediately following the Meet the Candidates event.
Vote on this Story by clicking on the Icon