CAPITAL DISTRICT — Siena College is "going pink" on Friday, Jan. 20, for the women's basketball team's 12th Pink Zone game to support breast cancer awareness.
"We'd love to have people come out and support this event," said Joan Sheehan, president of CRAAB!, the organization that benefits from the game.
Players will wear custom made pink and white uniforms, pink t-shirts will be distributed to some fans at the door, pink and white pom poms will be given out and all fans are encouraged to wear pink in support.
Coach Gina Castelli started the Pink Zone game 12 years ago when a former science professor at the college, Pat Brown, told her about the organization she was involved in founding: Capital Region Action Against Breast Cancer.
"We had a great turnout at that time. We had at least 1,500 to 2,000 people that came to the game," said Castelli.
That experimental event focused mostly on educating attendees about breast cancer and how CRAAB! could help. Since then, it's taken on a life of its own.
"We've kept it going and it just got bigger and bigger," said Castelli, who formed a steering committee a few years ago to get the community more involved.
The steering committee found various local businesses interested in sponsoring or helping with the game and also helped raise community awareness for the game, which raised more money.
Last year, the team raised $20,650 for CRAAB! and this year the goal is $25,000.
"Now we're just trying to raise more money. Every year we try to up it and raise the level," said Castelli.
Perhaps a reason for the game's increased success and popularity each year is the light it shines on breast cancer survivors.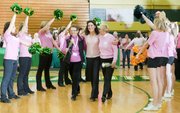 "Prior to the game we recognize breast cancer survivors, so all our players and coaching staff bring out a survivor and announce their name, how long they've been a survivor, and that in itself is inspirational and motivational," said Castelli, who said survivors range from five months to 25 years cancer free. "There are many more survivors in the stands. We have a great following, great fan support."
(Continued on Next Page)
Prev Next
Vote on this Story by clicking on the Icon