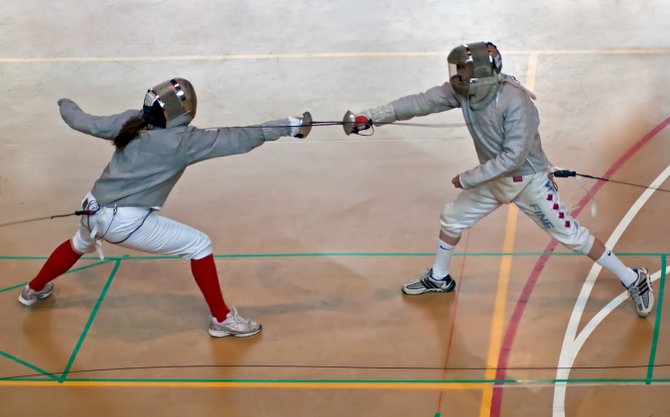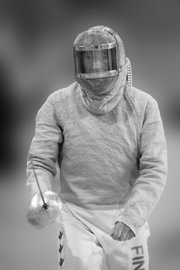 Rexford — Locking swords in a heated duel might not be what many envision for their golden years, but for one 76-year-old fencing is more than an outlet to stay physically fit.
Marvin Fine, a Rexford resident and psychologist, snagged the gold medal in the over 70-year-old division at the World Saber Championship in Porec, Croatia, on Sept. 28 of last year. There were a total of 23 fencers from nine countries vying for the category's top spot, but Fine's persistence and determination had him wielding his saber to victory.
He started fencing late in life, at 59 years old, following in the footsteps of his stepson, Michael Fiske, and his wife, Katherine Wardle, who is also a psychologist.
"I was attracted to it because they were doing it," Fine said. "I had always played high school sports and was a runner … at the point they took up fencing I thought, 'This is neat' and 'I'll give it a try.'"
When Fine started fencing he was a professor at the University of Kansas, and had the fortune of being coached by Vladimir Nazlymov, a three-time Olympic gold medalist from Germany.
"He is the real McCoy," Fine said of Nazlymov. "I trained with him for three years and he gave me a good foundation."
Fine now fences at Beaches Saber Club in Troy and has been coached for the last several years by RPI Fencing Club Coach Rod Meagher. Fine practices tow to three times per week and outside of practice he tries to work out for around 30 minutes daily at a local gym.
"To be my age and be physically active and be in a competitive sport is terrific," Fine said. "There is nothing magical about staying in shape … you work out a routine that is going to be a good routine for you."
(Continued on Next Page)
Prev Next
Vote on this Story by clicking on the Icon