COLONIE — There's no "silver bullet" to dealing with learning disabilities, but Kathy Johnson thinks she's found a pretty good process, the "Pyramid of Potential," that helps.
"I came to this as a parent and an educator and from working with many different clients," said Johnson, a mother who lives in Ballston Spa. "That's how the pyramid got developed, with the mind and body health being the most foundational."
She'll share the Pyramid of Potential and other tips at a presentation on Saturday, Feb. 7 at 7 p.m. in the Shaker High School auditorium. It's open to the entire community and hosted by the North Colonie Special Ed PTA.
Johnson has been a private educational therapist since 1999 and began brainstorming how to better address the needs of individuals with cognitive learning disabilities, drawing on experiences with her own children to get things started. Once she started seeing results in her own family, she knew she had to share it.
"Seeing the difference it made in my family, I was completely compelled to bring this information to the rest of world," said Johnson. "Even working individually isn't enough because I can only affect dozens of kids a year where now I can reach thousands of people a year."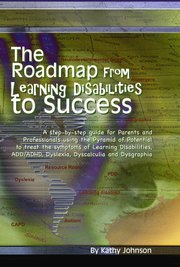 She penned a book based on the process, "The Roadmap From Learning Disabilities to Success" and created DVDs that parents, schools or organizations can utilize. She also runs workshops and speaks at seminars, attracting requests from around the country.
"Some workshops are school-based, some are private," said Johnson. "I speak nationally giving professional development presentations every month."
This time, she offered her services free of charge.
"Usually she charges a fee for her lecture but she waived it for us because it's getting to know the region a little better," said David Cohen, president of the North Colonie Special Ed PTA. "This is for any parent who wants to come for the resources and ideas or solutions to assist children for success in school."
(Continued on Next Page)
Prev Next
Vote on this Story by clicking on the Icon