GLENVILLE — Two local airmen had a change of pace from transporting cargo and passengers to remote outposts when they came to the aid of seven severely burned fishermen — and saved their lives.
The New York Air National Guard's 109th Airlift Wing on Jan. 11 evacuated badly burned crewmembers, four Vietnamese and three Indonesians, of a 167-foot long South Korean fishing vessel after the crew compartment caught fire.
The ship was located 372 miles from the United States McMurdo Station in Antarctica when the blaze started. Nearby vessels rescued 37 of the 40 crewmembers, with the three missing men presumed to have died on board, and medical personnel at McMurdo prepared the individuals for transport.
Originally, an Air Force C-17 Globemaster III was going to fly from Christchurch, New Zealand, to transport the injured fishermen back to Christchurch for treatment. Weather conditions at McMurdo prohibited the C-17 from landing, though.
The 109th's ski-equipped LC-130 was then tasked with transporting the individuals and left McMurdo for the long trip.
"On this day, we were the ambulance driver," Major Josh Neilson, pilot of the LC-130, said.
Neilson, of Saratoga Springs, and Tech Sgt. Randy Powell, of Lake George, were on board during the rescue mission.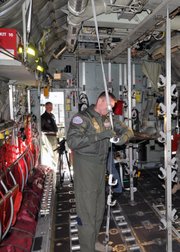 Besides the two men leaving their routine of supporting the United States Antarctic Program, managed by the National Science Foundation, the passengers were out of their element.
"You could see the apprehension on their faces, knowing they had been rescued from a burning ship, flown by helicopter to the ice cap and loaded onto a C-130 with skis, was way out of their routine," Powell, the crew's loadmaster, said.
While there was a communication barrier between the injured passengers, who didn't speak any English, they still showed universal signs of gratitude.
"The thumbs up and smiles we received after the 2,300 miles, eight and a half hour flight was a clear sign they were grateful and relieved to be rescued," Powell said.
(Continued on Next Page)
Prev Next
Vote on this Story by clicking on the Icon