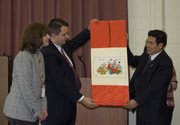 continued — The students were split into groups of five and were guided by volunteers from Guilderland. Students from Tech Valley tagged along as well to act as interpreters for the groups. From there, the students were able to get a glimpse of a variety of classes from music, technology and algebra, to English, social studies and science.
Along the way, students asked each other questions about their country's educational systems. The Chinese students were surprised to learn that a class filled with 25 to 30 participants is considered large. In China, the average class size is around 50 students.
The delegation was seeking out new instructional models for its students. Tianjin High School No. 41 Principal Tianshun Chen said the visit taught administrators about giving students more freedom to learn on their own.
"In China, teachers work more on discipline and study with students, but here teachers cultivate student creation," he said. "We treasure these good practices and we will try to memorize them to use them back home."
Last year, the delegation partnered with teachers from Tech Valley to learn more about project-based learning.
Guilderland High School Principal Thomas Lutsic said he was happy with the visit's outcome.
"They liked a lot of the hands-on lessons," said Lutsic, who walked with administrators along the tour. "They liked the idea of fostering student creativity."
Vote on this Story by clicking on the Icon