continued — The society is partnering with the Erie Canal Museum in Syracuse. Lisa Overholser, staff folklorist of the society, said she doesn't think people are familiar with the canal's role in music tradition and history.
Another Schenectady-based award recipient, the Schenectady Museum & Suits-Bueche Planetarium, received a $6,030 grant to develop a mobile audio tour exploring the history and impact of the canal in Schenectady. The tour is planned to highlight technological development spurred by the canal's construction, how it impacted nearby residents and how it brought growth and investment to Upstate New York.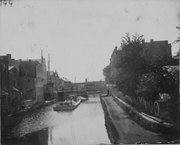 "We are thrilled to have this opportunity, it is a new technology for us," said Kerry Orlyk, executive director of the Schenectady Museum. "Since we changed our mission in 2004, we have been looking for ways to incorporate technology with history or art and this is the perfect opportunity to introduce that to the museum and the region."
The tour would have a number anyone can dial into at various stops and locations throughout Schenectady County. The entire tour would be available in sections and also without having to visit the local sites, because the intention is to make it downloadable on the Internet. There is also the possibility to create a smartphone app, so as to incorporate different images and videos.
The Schenectady Museum isn't the only one looking towards technology, though.
The Albany Institute of History and Art was awarded a $5,500 grant to develop a lesson plan using art and artifacts from its collection to help students explore the canal's history. The program will also utilize technology for video conferencing, which will be hosted on its website. This will give students not able to visit the museum a way to experience the program.
"It allows us to not only talk to children within the city of Albany, but children throughout the state and telling them about the great history and rich history of the Erie Canal," said David Carroll, executive director of the Albany Institute.
Vote on this Story by clicking on the Icon