ALBANY — More than 40 members of the New York State Sheriff's Association recently came together in Albany to support Gov. Andrew Cuomo's proposal to expand the state's DNA databank.
Sheriffs from across the state spoke out in favor of the proposal at an event held during the Association's 78th annual Winter Training Conference at the Desmond Hotel in Albany on Wednesday, Jan. 25. The governor's plan calls for an expansion of the databank and making it a requirement to have DNA collected from every person convicted of a felony or misdemeanor within the state.
"Every day we wait to expand the state's DNA databank, another cold case goes unsolved, a person wrongly convicted sits in prison, and we risk one of our loved ones from falling victim to a crime that could have been prevented," said New York's Deputy Secretary for Public Safety Elizabeth Glazer.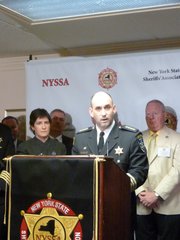 She went on to explain that according to statistics provided by the state Division of Criminal Justice Services, there have been 2,700 new convictions using DNA samples and 27 New Yorkers have been exonerated since the database has been in operation.
The last time the database law was expanded was in 2006, to include mandatory DNA collection for those convicted of 36 misdemeanors along with all felonies.
Glazer said of DNA samples taken from individuals convicted of misdemeanor petit larceny since that time, 965 of those people have been linked to 407 burglaries, 222 sexual assaults, 117 robberies and 52 murders. Since the state began collecting DNA from convicted trespassers, Glazer said 103 sexual assault cases had been solved.
"We have a powerful tool that works, so let's use it," she said.
Albany County Sheriff Craig Apple said he applauds the governor's effort because the database is a deterrent for criminals and increases the solvability of cases. It is also a method that has worked elsewhere.
(Continued on Next Page)
Prev Next
Vote on this Story by clicking on the Icon