CAPITAL DISTRICT — If you ever have to evacuate, don't forget to pack the pets.
That's a message being promoted by the Albany County Animal Response Team (CART) and the Mohawk Hudson Humane Society, which have two trailers that can hold up to 200 animals. They're essentially animal shelters in a box and were purchased with a state grant to temporarily house pets in the event of an emergency or natural disaster.
On Thursday, June 28, CART and the humane society hosted an exercise to practice using the trailers. The "catastrophe" was a flood and a small corps of volunteers worked throughout the morning to corral and organize cats and dogs from the shelter in Menands.
"We've known for many years that people refuse to evacuate if they don't have a way to take their animals with them. When animals are saved from disaster, we are also making sure people are comfortable going to a safe shelter, knowing their animal or animals will be cared for until they can be reunited," said Brad Shear, executive director of MHHS.
The trailers are stocked with all the equipment necessary to properly run a mobile animal shelter: cages, crates, food and water bowls, leashes and animal safety equipment. Depending on the type of emergency, the trailers would travel to evacuation sites or set up shop somewhere else.
"We try to set up at the same site or close to people … so if you're in the school gym we'd be somewhere else on the school grounds," said Shear.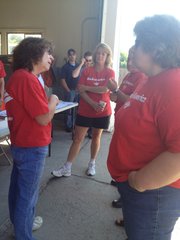 Storing the animals near people is convenient because their owners can take care of them themselves. If there's no way to park near a human shelter, volunteers will care for the animals.
"It depends on the nature of the disaster and how it's set up," said Shear.
(Continued on Next Page)
Prev Next
Vote on this Story by clicking on the Icon