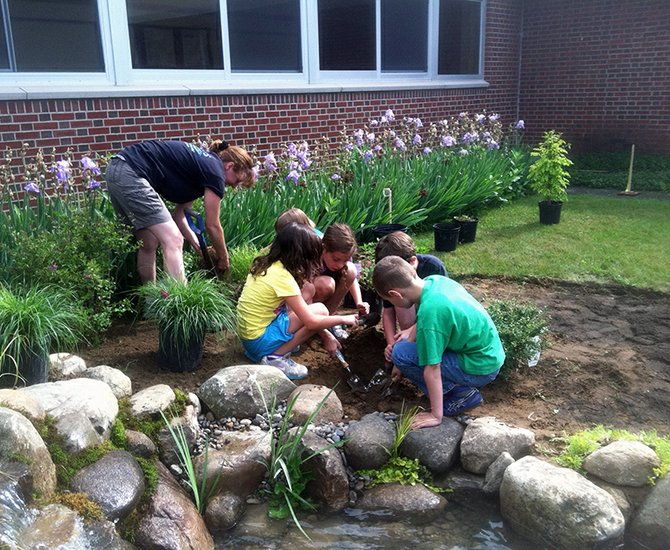 ROTTERDAM — Elementary students are always excited to be free from homework and test prep, but a recent effort spearheaded by a second-grade teacher wed getting outside with learning.
Jefferson Elementary School in Rotterdam recently welcomed a butterfly garden and pond into its courtyard. Funds were provided by the district's Schalmont Ideas Grant, which allows teachers with innovative ideas to apply for funding to make them a reality. Pattersonville-based Decker's Landscape and Aquatics also donated two days of labor to construct the new space.
Second-grade teacher Shannon Farrell said she developed the concept for the project based on her class's study of life cycles. The school has had butterfly larvae sent to the classroom before, with students watching the growth, but she wanted to create that lesson in its natural environment.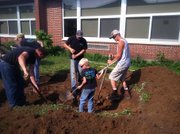 "It came out even better than we could have imagined," Farrell said. "It is unique. A lot of my friends said they have never heard of such a thing and they think it is amazing."
She said the garden provides a "nice learning environment" outside of the traditional classroom setting.
The first day of pond construction was strictly Decker's helping lay the groundwork, but there still was a little helper.
Jodi Decker, co-owner of the family business, said her youngest son wanted to tag along and help dig up the ground for the pond, which is about 8-by-10 feet with a 3-foot waterfall.
Decker's kindergartener, Nicholas, now going into first grade, appears to have a passion for the family trade.
"He was there the day we did the pond … he did all the prep work and site work," she said. "He was hands-on building the pond."
Nicholas also came back the second day of site work when second graders got their hands dirty and helped plant flowers, with a focus on plants attracting butterflies.
(Continued on Next Page)
Prev Next
Vote on this Story by clicking on the Icon