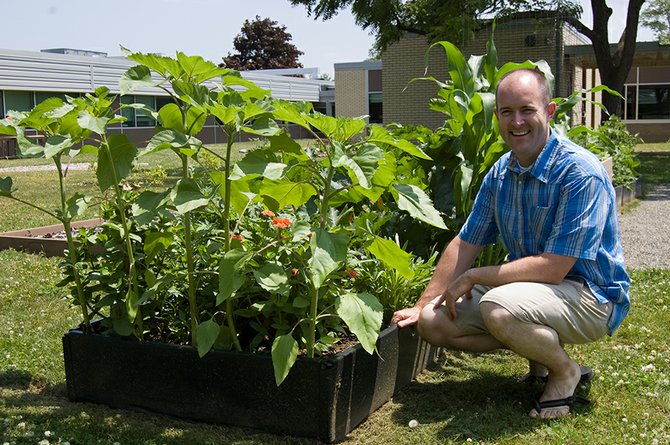 NISKAYUNA — Hands-on learning will be taking on an entirely new meaning at Niskayuna high school next year.
Biology teacher Christopher Jennings and his colleagues have worked on creating an "outdoor science classroom" for the past year, but Jennings said he started dreaming up the project three years ago.
After acquiring grants and funding totaling around $22,500, he admitted the project started to get "way over his head," so he asked others to help him make his dream a reality.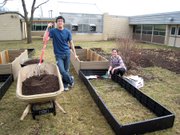 "I took kind of the project leading role and (colleagues) came in on weekends, free time, spring breaks and we worked … with over 100 students that have been involved in the project," Jennings said. "The amount of dedication across the high school to this project has been incredible."
The outdoor classroom, located in the high school courtyard by the science classrooms, consists of several smaller projects coming together to form the educational environment. Jennings said the theme of the courtyard is to try and be as green, local and sustainable as possible.
Once section of the classroom contains several varieties of native perennial plants and some large local rock samples, with beds edged in recycled plastic.
There is also a pond that is 2 feet deep, with three different levels, filled with native plants and frogs. The pump for the waterfall is powered by solar panels, which were built by students. At the top of the pump there is also a stream table allowing teachers to educate students on erosion and deposition.
On the other side of the garden there are blueberries and strawberries growing alongside other plants. A permeable sidewalk lines the gardening area, which has paving cells holding the rock steady that allows for handicap accessibility.
"One of the things that's limited sometimes for students or people in general that are mobility impaired is being able to garden," Jennings said. "It is hard to garden on the ground unfortunately if your wheelchair doesn't allow you to get on the ground."
(Continued on Next Page)
Prev Next
Vote on this Story by clicking on the Icon