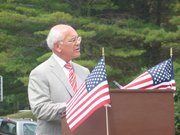 BETHLEHEM — The heat helped, rather than hindered, participation in Family Day events put on by the Town of Bethlehem at Elm Avenue Park. As families flocked to the pool to stay cool on their day off, they were likewise drawn to entertaining and patriotic activities occurring throughout Independence Day.
On Wednesday, July 4, the celebration events began in the morning with a reading of the Declaration of Independence. The document was split into sections and read by Supervisor John Clarkson, Congressman Paul Tonko, D-Amsterdam, and Boy Scouts from Elsmere Troop No. 58.
This is the fourth year the reading was conducted. In previous years the event was held at Town Hall and was originally organized by Boy Scout Joseph Garry, who is now in high school. He said town officials were looking for a more formal way of commemorating Independence Day and he stepped forward with his idea. Garry has been involved with the reading ever since.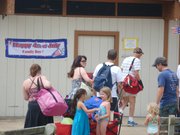 "I think it's important for people to remember why we have the day off," he said. "It's nice to have fun, but people need to remember the reason for the holiday."
Tonko said he was proud to participate in the event and has been at the reading all four years.
"It's a phenomenal tradition," he said. "I think to really set the tone for the holiday, nothing is more powerful than reading the actual document and having it speak to us. It expresses the boldness, the courage and the determination portrayed to take on a king. It's moving."

Family Day continued with ice cream, a barbeque, a magic show and balloonist for the kids, music and an Old Time Base Ball game.
Parks and Recreation Administrator Nan Lanahan said because of the hot weather and the holiday being in the middle of the week, attendance for the game was expected to be high. The event, believed to be in its 30th year, takes several months to plan.
(Continued on Next Page)
Prev Next
Vote on this Story by clicking on the Icon