BETHLEHEM — "I want to be the alligator!" shouted one young boy with his hand raised high in the air.
On Monday, July 2, about 20 children were standing on colored dots on a tennis court at Elm Avenue Park. They were about halfway through their lesson for the day and about to begin a game where one student — the alligator — would walk through two lines of children while dodging balls being passed on the ground with racquets.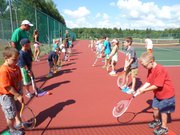 "There's a lot more activity this way," said Dan Cremo, the Town of Bethlehem's tennis instructor. "There are not as many kids waiting in line because they're all involved and they don't fool around as much."
Cremo has more techniques to draw upon now that the Bethlehem Parks and Recreation Department has received a $2,600 grant through the United States Tennis Association's 10-and-Under Program to revamp its Youth Tennis Clinics for the youngest participants. The funds allowed Cremo, a tennis instructor for 15 years, to attend special training sessions to learn a new style of teaching the sport. The program itself also received special new equipment.
The town provides three levels of youth clinics for children in kindergarten to eighth grade. The grant money will go to help the two younger levels learn the game by providing for the purchase of smaller nets, lighter racquets and new tennis balls that are larger and lighter to handle, and don't hurt as much if a child is accidentally hit.
"It helps give them more confidence," said Cremo, who was currently teaching the kindergarten through second-grade level clinic the department dubbed "Rally Rascals." Other than the "Alligator Alley," games include "lobster trap," where one child tosses the ball and their partner attempts to catch it between two racquets, and several bounce and pass challenges.
(Continued on Next Page)
Prev Next
Vote on this Story by clicking on the Icon