CAPITAL DISTRICT — If you've never seen an endangered species up close, now's your chance.
Karner blue butterflies can be seen flitting through the Albany Pine Bush Preserve through the middle of July. Though their population has been on the decline for 50 years, the butterflies are indigenous to the area and are once again thriving in their natural habitat through a recovery program and partnership between the U.S. Fish and Wildlife Service, the New York State Department of Environmental Conservation, the New Hampshire Department of Fish and Game and the Alton Farnsworth Middle School.
"This is a very exciting, and very limited chance to see this federally endangered butterfly," said Pine Bush Discovery Center Director Jeffrey Folmer. "One question visitors often ask is, 'Where can I see the Karner blues?'"
The butterflies are small and difficult to spot and it takes a sharp eye to pick out the light blue creatures with orange or red spots on the wings. They'll also only be flying through the Pine Bush for a limited time because of their short lifespan. On a hike through the barren, sandy dunes of the preserve on Friday, July 6, the hot, dry, coastal weather was perfect for Karner blue spotting and they could be seen hovering above clusters of tiny white flowers on Jersey Tea plants.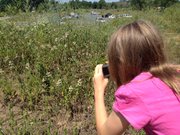 Erin Kinal, education program director at the Pine Bush, told a group of hikers they were lucky to have caught a glimpse of the "poster child of the Albany Pine Bush." Flying amidst the Karner blues and easier to spot were cabbage white butterflies, the dainty cream colored insects that are the most common butterfly in New York State.
"This is one of the best places to come look at butterflies because we have a high diversity of species," said Kinal. "You can see the most common and most rare butterflies in the same day."
(Continued on Next Page)
Prev Next
Vote on this Story by clicking on the Icon